Kojimatic
Kojimatic is the title of my music project. To stay updated, please follow the Facebook page or Instagram.
Album: "Press Start to Play" (2019)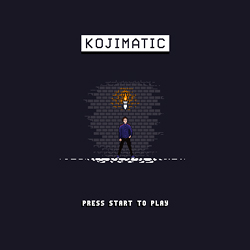 Insert your cartridges and boot up your old consoles - here is a soundtrack straight from the gaming sessions of your childhood! The latest release of my music project Kojimaic, "Press Start to Play" is pure chiptune goodness with catchy melodies that could come right out of a 80's or 90's console game.
The 5-track album is now available for digital purchase on my Bandcamp page as well as streaming on all major streaming and download platforms (like Apple Music, Spotify or Amazon).
Album: "Atarashii Sekai" (2016)
Stop the clock and freeze the time with Kojimatic! Released on December 14, 2016 (back then under my former project name "Kenji Kojima"), the album's 14 original songs span a variety of styles and feature both instrumental songs and songs with vocals. The album includes the earlier singles "Atarashii Sekai" and "Whether in London". It has been described as mostly mellow, but you'll find the occasional rock song in there as well. Please "press to play and then repeat" and I hope you'll like it.
The album is available for download or streaming on all major online shops and streaming services:
Amazon USA
Amazon Germany
Amazon Japan
Spotify
Google Play
iTunes and Apple Music: Serach for "Kenji Kojima" inside the app
Bandcamp
Buying the album on Bandcamp includes an exclusive 8-page PDF booklet with lyrics and beautiful photos. You can also buy the CD version of the album exclusively on Bandcamp. It comes in a sleek Super Jewel Box and includes a beautiful 8-page booklet printed on high-quality heavy paper. Furthermore, when buying the CD you also get access to the digital download from Bandcamp immediately after purchase.
Music Video: "White Plains"
Second Single: "Whether in London"
First Single: "Atarashii Sekai"
Older work
Some of my older work can be found on Soundcloud.