I've been passionate about photography for more than a decade and I still use my free time regularly to shoot photos in a variety of genres:
Portrait & fashion
Architecture
Street
Urban scenes & city life
Travel
Photo Portfolio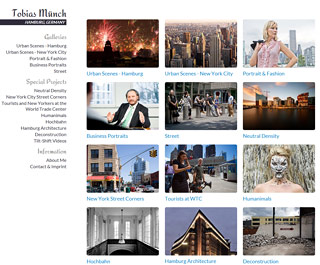 The portfolio provides an overview of my photographic works. This is the best place to start if you are interested in my work. Galleries are available for the various genres. Additionally, I present specific projects that I am or have been working on.
Tobias Münch - Photography Portfolio
Kotogoto Daily Photoblog
In addition to the portfolio, this photoblog allows me to show my latest photos and include a broader range of photos as well. Despite the title, I do not post on a daily basis anymore, but the blog still sees regular updates.
Instagram
You can follow me on Instagram:
flickr
You can also find additional/overflow photos at my flickr stream. To the right is a preview of the latest photos.